How can I use and install iTunes on Ubuntu? You would enjoy how simple it is to search for music, play audio tracks, listen to podcasts, and much more. No other program appears as unbelievable as iTunes, whether it be a media player or a music-listening application. The best thing is that, despite being a specifically designed Mac program, you can use it on Windows because there is a PC version. But installing iTunes on Ubuntu gets challenging if you use a Linux-based operating system!
Is iTunes Available on Ubuntu?
No, iTunes is designed for Windows and macOS. It is not for Linux-based open-source apps. Its Windows program may be installed, and you can use an emulator to execute it on Ubuntu.
Although it will be a stable method of using the program, Ubuntu has iTunes alternatives if you want one that is even more stable.
How to Install iTunes on Ubuntu?
Using the terminal is a part of the process from installing it to utilizing it. A command-line tool for Linux and Linux-based systems is terminal. You may execute each command, just as in Windows, simply pressing the Enter key after each one you input.
Step 1: Install Wine Repository on Linux
In order to install a Linux program on Ubuntu, you must get the Wine repository. It functions as a layer or interface that enables Linux-based computers to access Windows programs.
To install the Wine repository on Linux, follow the instructions below:
Press the Ctrl+Alt+T keys to open the Terminal.
Type the following command and press the enter key to download the Wine repository.
wget -nc https://dl.winehq.org/wine-builds/winehq.key
Again type the commands given below,
sudo apt-key add winehq.key
To run the aforementioned program and add the Wine repository key you downloaded previously, press the Enter key.
Also, you must add a key from WineHQ and execute the command by pressing the Enter key.
sudo apt-add-repository 'deb https://dl.winehq.org/wine-builds/ubuntu/ bionic main
To install the most recent versions of programs and even packages, Linux systems do offer an apt package. Update the local apt repository with the following command:
sudo apt update
Then, to install it, type the following command into the terminal and click Enter.
sudo apt install --install-recommends winehq-stable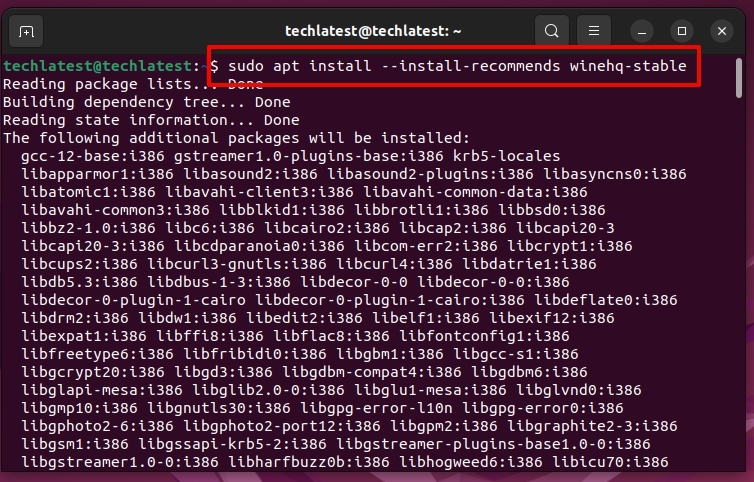 Your Ubuntu system will need some time to finish the installation. The final command will update the Wine repository software on your PC.
As iTunes won't run on a Windows 7 computer by default and Wine is configured to act as a Windows 7 emulator, run the command below to access Wine Control Panel:
Click the Apply button after choosing Windows 10 from the drop-down selection.
winecfg
Now, you are good to go!
Step 2: Install iTunes on Ubuntu
Windows and macOS both have access to iTunes. For greater stability, we advise installing the Windows version on Ubuntu.
To install iTunes on Ubuntu, follow the instructions below:
Your system will request you to finish the procedure when you click the Download option in order to continue.
Use the following command to launch iTunes on Ubuntu when everything is finished.
wine Downloads/iTunes64Setup.exe
Press the Install button when the system prompts you to Wine Mono Installer.
An iTunes dialog box will pop up; press the Next button.
You can change the destination folder, let it be the default, and select Install.
Typically, the system's default folder is on the C disc. If there is a Z drive or anything similar, you can replace it. But, stay away from using a detachable disc for the purpose.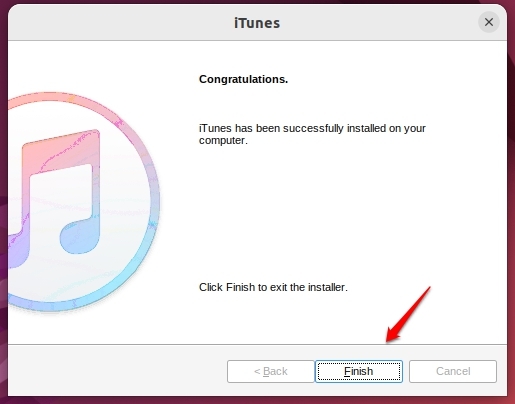 Make sure you let the iTunes shortcut to run as an app before continuing with Setup. On the home screen, add an icon by right-clicking it and selecting Allow Launching.
Step 3: Setup iTunes on Ubuntu
When you launch iTunes once the download is finished, the program will automatically download some files.
To enter the iTunes setup window, double-click on the iTunes icon.
When iTunes shows the Licensing Agreement, click the Agree button.
Afterward, you may access iTunes whenever you want by clicking on its icon on the home screen of your smartphone.
Step 4: Use iTunes on Ubuntu
Open iTunes while creating other programs on Ubuntu. In order to log in, you must also input your Apple ID credentials. If you don't already have one, make one now.
To use iTunes on Ubuntu, follow these instructions:
Tap on Account and select Sign In.
A prompt box appears; enter your Apple ID credentials and press the Sign In button.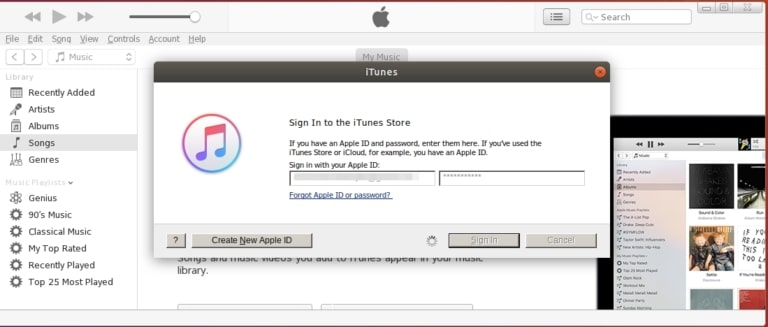 Moreover, a reliable internet connection is required the entire time. Moreover, Ubuntu now supports Apple Music.
---
Top 3 Alternatives to iTunes on Ubuntu
With Ubuntu or other Linux-based devices, you might have installed iTunes, but your experience probably wouldn't have been all that fantastic.
There is a compatibility issue rather than a problem with the iTunes program. It's because the iTunes program only supports Windows and macOS, not Ubuntu or Linux.
Use iTunes alternatives in these circumstances, especially on Linux-based Ubuntu computers.
1. Rhythmbox
Did you wish to easily access iTunes' full potential?
If so, you must give Rhythmbox a try! If it has been updated to the most recent version, this music player is pre-installed on all Ubuntu computers. Its user interface is quite similar to iTunes'.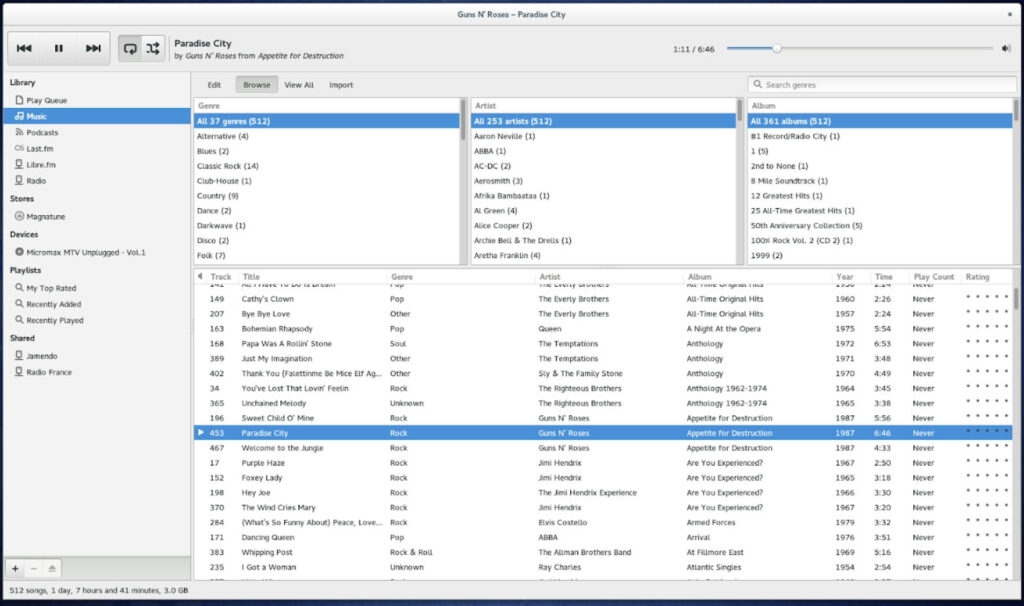 Also, reporting issues is now simpler. For your amusement, it also has a good selection of songs, podcasts, and other genres.
2. Exaile
How about an iTunes alternative for Ubuntu that's lightweight? 
If yes, then Exaile is what you need!
The good news is that it is lightweight and uses little memory despite its remarkable functionality.
Just a small number of music players support Last.fm scrobbling. Your Last.fm account is used to collect and store your listening patterns.
Even if it improves your musical experience, it is not on iTunes. The app's user experience (UX) is friendly and seamless.
To install Exaile on Ubuntu, run the two scripts shown below one at a time:
3. Clementine
Are you seeking an Ubuntu music player that makes it simple to manage, organize, and play music?
If so, Clementine is among the best iTunes substitutes available.
With a nice user interface, listening to music also becomes straightforward, whether you want to download it or stream it from platforms online.
It incorporates the music collection from websites like Spotify and Last.fm, SoundCloud, Grooveshark, and others for streaming music.
Moreover, Clementine allows you to play from any cloud storage where you have uploaded your music. You can modify audio files and metadata using it as well. Also, thanks to iTunes, you may exchange tunes with iOS devices!
The following three commands should be run one at a time to install Clementine on Ubuntu:
Frequently Asked Questions
Can I run iTunes on Linux?
Although there are a few solutions, iTunes does not have a native Linux app.
How to install Wine on Ubuntu?
You must use Terminal and enter the aforementioned commands to install Wine on Ubuntu. Be sure to set up the most recent version.
Which Linux is fast?
There are quicker operating systems out there than Manjaro Linux.
Why is Ubuntu so popular?
Because of how much its user interface resembles Windows, Ubuntu is well-liked. Thus, it is simpler for individuals who desire to utilize Linux OS to adjust
The Final Word
If you were having trouble installing iTunes on Ubuntu, you should be relaxed today! You may install the Wine repository even if it isn't accessible for Ubuntu or other Linux-based operating systems.
Also, you may use iTunes just like you would on Windows after downloading and setting it. But, you must be comfortable with Terminal in order to install the Wine repository (the command line tool of Linux).
Because of how much its user interface resembles Windows, Ubuntu is well-liked. Thus, it is simpler for individuals who desire to utilize Linux OS to adjust to it.
Additionally, you may utilize its substitutes, like Rhythmbox, Exaile, and Clementine, if you find using iTunes on Ubuntu to be less than seamless.
Because the software is officially designed for Mac or Windows, it is solid on those operating systems rather than Linux-based ones like Ubuntu, thus the experience doesn't appear soft.
Please provide your feedback in the box below.
Further Reading: